Key Biscayne is by far one of the most beautiful keys in Florida and would make a fabulous destination for your Florida family vacation. With its soft sand, gorgeous blue/green water and balmy weather, it is sure to please the whole bunch. Just remember to pack an umbrella as this is a tropical climate and rain can happen at any time. Be sure to check out my Florida Family Vacations; Miami Beach and South Beach post for more kid friendly information about the area. Read on to see why Key Biscayne is one of the best kid friendly Florida family vacations, packed with insider tips to kid-friendly attractions, restaurants, resorts & hotels.
Kid Friendly Things to Do in Key Biscayne on your Florida family vacation:
Bill Baggs Cape Florida State Park, Just a short drive to Key Biscayne and you'll find a gorgeous State park with a long, cozy stretch of sand (many times) voted one of the top 10 beaches in the U.S.  Also home to the majestic Cape Florida lighthouse, (built in 1825 and the oldest structure in Miami's Dade County), which stands sentinel over the beach.  Offshore, a sand bar protects the beach and virtually eliminates waves, making this an ideal swimming beach for young kids.  And then there's that sand, grains so silky soft you'll want to roll around in them (and your children will).  You can also rent bikes or walk a nature trail and the place is never crowded.  There's plenty of parking and grills to cook, and the covered shelters can be rented by the day. Life is such a beach.  floridastateparks.org/capeflorida/ Cape Florida Lighthouse; Key Biscayne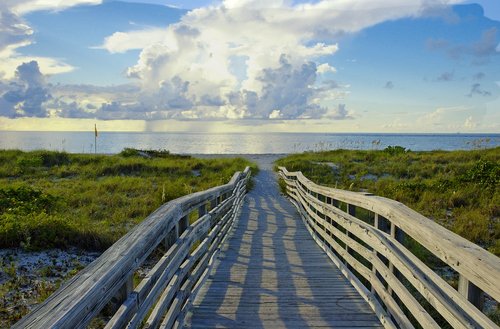 Crandon Park Beach
4000 Crandon Blvd
Key Biscayne, FL 33149
Crandon Park Beach, rated as one of the top ten beaches in the country, is two miles long, super wide, and has an offshore sandbar that provides calm, shallow waters just right for babies and toddlers. Older kids can head out beyond the sandbar for deep-water fun.
Sometimes at low tide the sandbar reveals itself as an L shape, which makes it possible to walk from the shore to its outer reaches without ever touching the water! A promenade, great for biking and walking, winds all along the beach. Read more about it at;
Kidsplayparks.com
Crandon Blvd
Key Biscayne, FL 33149
(305) 365-8900
This is the center of Key Biscayne, a large expanse of grass with a playground and splash fountain. Climbing equipment, slides and tunnels are available for very small children, and for school-aged children.
Hours: Daily, dawn to dusk At the Monkey Jungle humans are caged and monkeys run wild! A fun day out where you can escape on a jungle safari, explore the wilds of South America, Asia and Africa, witness crab-eating monkeys diving for treats, delve into the lush, tropical, Amazonian Rainforest filled with hundreds of exotic monkeys, and enjoy the antics at the Orangutans' Asiatic Ape Exhibit. Look out for the new adventures, which include a Cameroon jungle, Mandrills, and Parrots of the World. www.monkeyjungle.com
SEAQUARIUM; The Miami Seaquarium is located right in the middle of the tourist area, on the causeway between downtown Miami and Key Biscayne. It's a fabulous stop where you can witness an outdoor aquarium experience that's only possible in our tropical climate. Be sure to budget enough time to spend at least half a day there! Admission to Miami Seaquarium is $29.95 for adults and $22.95 for children ages 3-9. If you're planning to visit more than once this year, you can purchase an annual pass for an additional $10 per person. Also, you can obtain free admission with your Go Miami card. See the Miami/South Beach post for more kid friendly things to do in the area
Best Kid Friendly Restaurants in Key Biscayne while on your Florida family vacation:
The best Kid Friendly Restaurants in Key Biscayne voted on by users of UrbanSpoon.com
Kid Friendly Restaurants in Key Biscayne:
One of my very favorite restaurants in Key Biscayne is the
Rusty Pelican
. I have very fond memories of it not only for the fact that it was the first romantic dinner my better half and I shared, but the view of the Miami skyline is incredible, and they even took a Polaroid of us out by the fire pit after our lovely dinner and memorialized the moment forever. The coconut shrimp is yummy, and the Spicy Lobster & Crab Pasta is awesome! But their brunch is to die for!  As for being kid friendly, I'm sure it would be fine for that, but even better would be to get a sitter for the night and enjoy a fabulous romantic dinner for two there, it is amazing. (At least it was when I last visited back in '99, so I can't imagine it would be much different now).
Best Places to Stay on your Florida family vacation in Key Biscayne; Kid Friendly Resorts and Hotels:
The Ritz is the one and only big resort/hotel on Key Biscayne, but well worth the money you'll spend. If you don't want to fork out the dough for this one, see the Miami/South beach post for lesser priced hotels and resorts that are kid friendly, of course 🙂
455 Grand Bay Drive Key Biscayne, FL 33149
The Ritz-Carlton, Key Biscayne is a beach-front island oasis in beautiful Key Biscayne, just five miles from downtown Miami. The 13-story smoke-free resort is situated on a 12-acre stretch of oceanfront property and bordered by a 1,200 foot golden sand beach, named one of the top 10 in the United States.Hotel amenities include the two oceanfront pools, beach recreation, and destination spa featuring more than 60 ocean-inspired therapies and a Wellness Center with state-of-the-art equipment and fitness classes. Stellar dining options include Cioppino signature restaurant with Tuscan cuisine, Cantina Beach featuring authentic Coastal Mexican dishes, Dune Oceanfront Burger Lounge, and the Old Havanna-inspired RUMBAR. The hotel also offers 24-hour room service, twice-daily housekeeping, complimentary overnight shoeshine, overnight laundry, evening turndown, valet parking, business center, Ritz Kidz' program, signature shops, and airport shuttle.In 2009, The Ritz-Carlton, Key Biscayne unveiled a fresh look for its 450 guestrooms. The new decor reflects the resort's chic island feel and includes custom-made furniture and lighting, fresh carpeting and draping, new technology and a stunning mother-of-pearl ballroom vanity wall covering. Newly renovated guestrooms feature marble bathrooms, stocked mini-refreshment bars, goose down comforters, multi-line telephones, jack-packs, desks, lighted make-up mirrors, hairdryers, scales, dataports, safes, European toiletries, and private balconies.
Check out the Miami/South Beach post for more kid friendly hotels and resorts in the area.
Come to Key Biscayne for your next Florida family vacation and find out why it's one of the best Florida has to offer!If your family has stayed in Key Biscayne for a Florida family vacation in the past, please leave me a comment, I'd love to hear how it was!