Have you been looking for family activities in South Lake Tahoe? Look no further! Even with all the amazing alpine views of the Sierra Nevada mountains towering around you, and all the fun South Lake Tahoe has to offer, the kids may still get bored on your family vacation. So, here are a few South Lake Tahoe family activities for the less-than-satisfied younger set. If you're looking for more information about a South Lake Tahoe family vacation, check out our Five Fabulous South Lake Tahoe Family Resorts post with kid friendly resorts, city info and much more.
Here are some great kid friendly family activities for your South Lake Tahoe family vacation:
Animal Ark
1265 Deerlodge Road, Reno, NV 775-969-3111
Located in the juniper covered hills north of Reno. Observe a tiny burrowing owl or kit fox as they bask in the sun next to their burrows; or the black bear that may lumber out of his den to take a dip in his pool. Open April thru October: 10  – 4:30; Closed Mondays, except holidays.
Bartley Park
6000 Bartley Ranch Road, 775-828-6612
The park features more than 2 miles of hiking trails, a horse arena and the historic one-room Huffacker School House. The Western Heritage Interpretive Center features traveling exhibits and other cultural themed programs and displays. The park is a former ranch with lots of open space and also has historic farm equipment.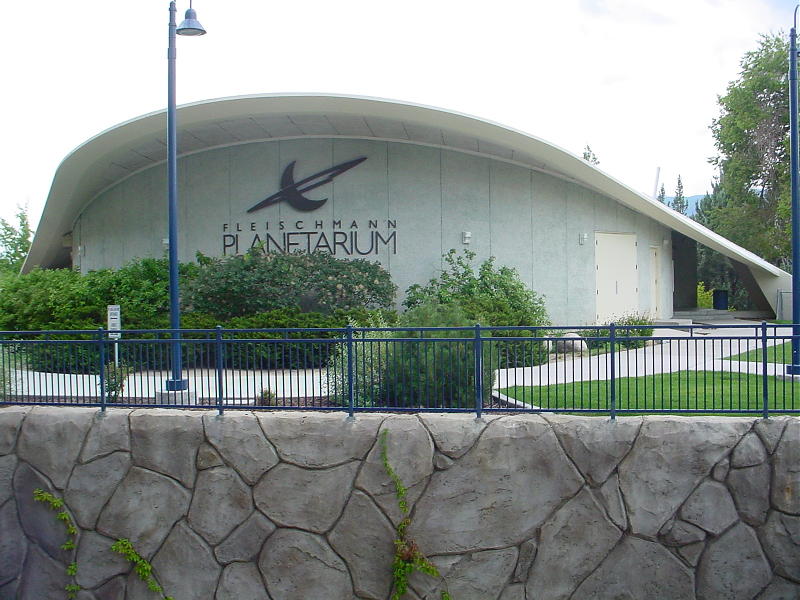 Fleischmann Planetarium
North of the University of Nevada on N. Virginia St.
775-784-4811: Current Shows & Hours and current events in the night skies
775-784-4812: Reservations
Daily entertaining & informative films & star shows as well as telescope viewing weekly. Don't miss the out-of-sight gift shop with such fun things as glow in the dark constellation maps, astronaut Freeze-dried foods & much, much more!
Galena Creek Park
18350 Mount Rose Highway, south of Reno, 775-849-2511
Hours: 8AM – 5 daily
440 acre park nestled in the forest with Galena Creek flowing through. Hiking, self guided nature trails, picnic areas and a group picnic facility. Family programs are held in Campfire Meadows at the north end of the park.
Idlewild Park
775-329-6008, West of Booth Street just off Idlewild Drive in Reno
barbecue pits, swimming, fishing, a beautiful rose garden, wedding garden, & much more. For the children there is an amusement park including Merry-go-Round, Flying Planes, Roller Coaster, Tilt-a-Whirl & famous train. Rides open daily: May thru Labor Day 11 – 6. Sept. thru May – Sat., Sun, & holidays, weather permitting.
National Automobile Museum
775-333-9300, 10 Lake Street (Corner of Lake & Mill Sts.)
A collection of 200 antique, vintage, classic, & special interest automobiles, located in downtown Reno. Don't miss the interest automobiles, located in downtown Reno. Don't miss the great gift shop with the hard to find unusual gifts!! Open 9:30 to 5:30PM Mon-Sat except Christmas & Thanksgiving. Open 10  to 4:00PM Sundays
Sierra Safari
10200 N. Virginia, 775-677-1101
Open April 1 – October 31. Hrs: 10  – 5 daily. See more than 200 animals, 40 different species. Located 8 miles north of Reno in the beautiful North Valley area at the front of majestic Peavine Mountain. Sierra Safari has become Nevada's largest non-profit wild animal attraction.
Emerald Bay and Vikingsholm Castle
Calif. Hwy. 89, 5 mi. from South Lake Tahoe, Calif.
(530) 573-2600
Tours are usually available daily from mid-June through Labor Day from 10- 4  but call ahead to verify specific times and admission prices.
Emerald Bay with tiny Fannette Island rests on a  narrow arm on the southwestern shore of the lake. Its emerald green water is surrounded by sheer granite cliffs.
The castle is not accessible by car, but is a one mile walk from the Emerald Bay parking lotThe 38-room mansion is a replica of an 11th-century Viking castle
Fallen Leaf Lake
Junction of Calif. Hwy. 89 and Fallen Leaf Rd., South Lake Tahoe, Calif.
Fallen Leaf Lake is frequently not accessible during winter months because of heavy snowfall.
The second-largest natural lake in the Lake Tahoe Basin.  Fallen Leaf was an appendage of Lake Tahoe many years ago. Three miles long, Fallen Leaf Lake is considered by many scientists to be a microcosm of Lake Tahoe. Because it is smaller, researchers are studying the effects of pollution on the lake as they believe the same effects will appear in a similar way later in the larger Lake Tahoe.
Hornblower's Tahoe Queen
Marina Village, at the foot of Ski Run Blvd., South Lake Tahoe, Calif.
(800) 238-2463
Departures are from 10:30am- 7 pm The 2 pm trips on Monday and Tuesday are gaming cruises with personnel onboard to teach the rules and strategies of 21, craps, roulette and poker. Telephone for rates with and without dinner
Hornblower's Tahoe Queen, an authentic paddle wheeler, sails from its pier in South Lake Tahoe across the lake and into Emerald Bay daily throughout the year.
Tallac Historic Site
Calif. Hwy. 89, South Lake Tahoe, Calif.
(530) 541-5227
weekends  11- 3 from Memorial Day weekend – mid-June. The rest of the summer season Wed – Sunday  10- 4   Call ahead to verify hours and days of operation
Admission is free
Following the discovery of silver in Nevada, Lake Tahoe became a popular summer retreat for wealthy residents of San Francisco, Virginia City and Sacramento. In 1880, Elias J. "Lucky" Baldwin built an opulent resort including a casino and two hotels on this site. For more than 30 years it was one of a kind. As the area became more accessible via  automobiles, other lavish estates appeared all around the lake.
Taylor Creek Visitor Center
Calif. Hwy. 89, South Lake Tahoe, Calif.
(530) 573-2674
weekends from 11- 3  Memorial Day weekend – mid-June. The rest of the summer season through Labor Day weekend:  Wed. – Sun.  from 10- 4  September schedules  vary, so call ahead for hours and days of operation
Adjoining the Tallac Historic Site, the area around Taylor Creek Visitor Center gives the visitor ample opportunities to experience the Taylor Creek ecosystem and to understand its relationship to Lake Tahoe. Mt. Tallac rises 9,735 feet in the background.
Also, check out our " Five Fabulous South Lake Tahoe Family Resorts" post for ideas and recommendations on kid friendly resorts and hotels in the area.
If you've visited South Lake Tahoe on your family vacation, leave us a comment, we'd love to hear all about your family adventures!